This month's story takes place during the week of our Urban Plunge in the North End of Winnipeg. It was such a great week filled with many learning and eye-opening experiences. We stayed at Winnipeg Centre Vineyard Church where we were welcomed with open arms. Our first day in the city we did a learning tour throughout the West and North End neighbourhoods of Winnipeg, where we walked and got to know the different churches and organizations around the city. We then had two days set aside for volunteering at two organizations of our choice.
From the second day of volunteering, our fellow student Selah tells the following story of a life-changing encounter:
"In the morning Robbie and I spent time folding pamphlets for the big Thanksgiving dinner at Union Gospel Mission (UGM). UGM is a ministry in downtown Winnipeg that seeks to meet immediate needs surrounding poverty and empower people to take positive steps. After preparing lunch and snacks for the afternoon meal, I spent some time in the drop-in area, talking with people who were visiting UGM to use its services.
"One conversation that particularly stood out to me was with a man named Darryl. We talked about our lives and what we're each doing. Darryl shared of his childhood and other milestones in his life. He opened up and was vulnerable with me, more than I expected, mentioning that he hadn't been to church in 31 years due to problems with drugs.
"Darryl grew up going to a Catholic church and, the last time he did attend church, he was in a dark place, struggling with addiction and confused about who God is. At that point he had said he would never go back to church. The priest at that time put his arm around Darryl's shoulder and told him he knew he'd be back someday.
"Darryl mentioned that he had recently been thinking about going back to church, so I told him about Winnipeg Centre Vineyard and invited him to attend the service the next coming Sunday. The week of our Urban Plunge came to an end and all the students went home for the weekend.
"While staying in Winnipeg over the Thanksgiving weekend, two other students and I were able to attend Winnipeg Centre Vineyard that Sunday. And we just so happened to run into Darryl. We chatted together and Darryl said he was so glad that he decided to come this morning and that he had thoroughly enjoyed the pastor's sermon. Darryl said he would probably be back again. I was thrilled to have played a small part in Darryl's turn towards Jesus.
"We often think that small talk doesn't matter, but this experience has been eye-opening for me. It has challenged me to consider how important the chance to tell my story or listen to others tell their stories is. It doesn't take much, yet through sharing our stories and our lives we are each able to reconcile our pasts and can be encouraged to take a step in a new direction of life."
– Kiera Wassink and Kailyn Louka, Outtatown 2019-20
---
Abide With Me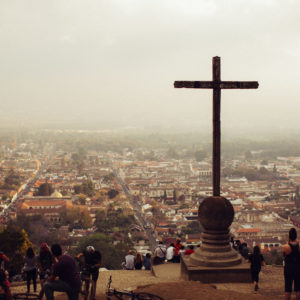 It feels like a lot has happened in October and life if very full. Does it seem that way to you? It feels like just a few weeks ago it was Registration Day and in a month, Semester 1 will be over. Lots of life has happened and lots more is yet to come.
Sometimes events in life hum along and all feels 'normal' and well. But sometimes life issues crowd in around us. What do we do and where do we go to find help to cope.
The past few weeks have been interesting for me. I was immersed emotionally in the final weekend of the federal election and the unleashing of hurtful comments made by the candidates. My church is in some turmoil right now and there are divisive issues. Our Outtatown community grieved the loss an alumna. All this and more on one weekend.
Coming to work the following week, I put on a brave, normal, happy work face. In the midst of my swirling thoughts of the weekend, I opened my daily devotional email and the song highlighted on this day was the hymn, Abide With Me. An invitation from our Heavenly Father and Comforter that was so simple yet so powerful to me at that moment. I knew I just had to 'be' in the calming and loving presence of God and rest.
I'd like to share the words with you:
Abide with Me
Henry Francis Lyte
Abide with me; fast falls the eventide;
The darkness deepens; Lord, with me abide;
When other helpers fail and comforts flee,
Help of the helpless, oh, abide with me.
Swift to its close ebbs out life's little day;
Earth's joys grow dim, its glories pass away;
Change and decay in all around I see—
O Thou who changest not, abide with me.
I need Thy presence every passing hour;
What but Thy grace can foil the tempter's pow'r?
Who, like Thyself, my guide and stay can be?
Through cloud and sunshine, Lord, abide with me.
I fear no foe, with Thee at hand to bless;
Ills have no weight, and tears no bitterness;
Where is death's sting? Where, grave, thy victory?
I triumph still, if Thou abide with me.
Hold Thou Thy cross before my closing eyes;
Shine through the gloom and point me to the skies;
Heav'n's morning breaks, and earth's vain shadows flee;
In life, in death, O Lord, abide with me.
Blessings to you today as you abide in Christ!
– Joyce Friesen, Outtatown Program Assistant