"The end of a matter is better than its beginning, and patience is better than pride." If I would choose a verse to describe my Outtatown journey, I would choose Ecclesiastes 7:8. I realized this on the second day of our scorching trek through the Karoo Desert, and then again the week we were working on our community development projects in Kayamandi.
The bus ride to Cape Town, for many of us, was a miserable drive that showed that the end of the ride really is better than the beginning, if that meant that we were finally done driving through what I'm sure was the hottest car ride we've ever experienced. For me it was also an amazing moment of realization. I was watching the beautiful desert go by when it finally hit me just how crazy it is that I am in South Africa. If anyone would have told me that I would be here just a few years ago I would have scoffed in their face and told them it was impossible, while in my mind wishing it were true but thinking I was unworthy of such a privilege. Looking back now, I realize that being patient and fighting through those lies that I told myself has gotten me here, and even though this isn't my end, this is already better than where I began.
"Don't forget about the real project." I can't tell you how many times I heard Johan, a long-time Outtatown partner, tell us this while we were planning our development projects in Kayamandi. The reminder to search for the real project of building relationships and finding the deeper level hit me in the heart every time. Every day that we were walking around the streets of Kayamandi, enjoying the sense of community flowing through the air, it was hard to set my foot down on my pride and tell myself to be patient. If I went according to what would make me feel good about myself, I would have gone in and just created a project that looked good, forgetting to take my time with the people. This project required us to stop, think, and be patient with finding a place where we could both build a relationship and learn from. This project had nothing to do with what would make me happy, but had everything to do with what would strengthen and empower the people in Kayamandi.
I have had the privilege to learn to anticipate that everything will be better than it already is, and to practice being patient in everything I do. I am excited to see how God will keep trying my patience by killing my pride, how God will guide me throughout my life, to see it keep growing into something better during and after Outtatown.
Sincerely,
– Carolyn Penner, Site 2 South Africa student, 2018-19
---
Outtatown: Grad Reflections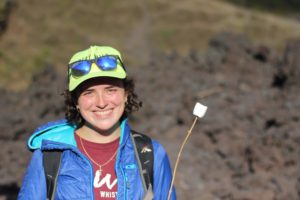 This Outtatown year saw us standing at the bottom of a mountain looking up at a daunting climb. For some of us that climb involved experiencing intense community for the first time. For others it took shape while talking about faith in the midst of our world's diversity and hurt.
For all of us that climb saw us travel to a new culture without family, and spend an entire day in silence or several dark hours in a cave. Indeed, fears and challenges defined much of our year, and while we may have more questions than ever, we have also gained wisdom and perspective.
Our year has also seen us celebrate spectacular mountaintops. Many students have uncovered or solidified their passions, whether for justice, for art, or for outdoor exploration, and these are calling us into exciting futures as we share all that we are still learning. Our mountaintops saw us learn to be vulnerable with those who walk alongside us; hopeful in witnessing each other's victories; and strong in encouraging each other through challenges. In so many ways, having struggled and overcome—having experienced the daunting climb and the mountaintop—we have come to know that God is at work in all circumstances.
– Rachel Herold, Site 1 Guatemala Site Leader, 2018-19. An excerpt from her graduation address, appearing in Spring 2019 Blazer https://www.cmu.ca/docs/blazer/CMU_CMU_Blazer_Spring_2019.pdf