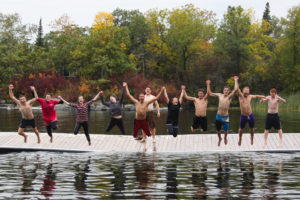 Hey Outtatowners! We're giving you helpful tidbits of information to help you prepare for Outtatown over seven different posts. All of the topics were suggested by students from previous years; what to bring, how to pack, and what you can expect from the Outtatown experience. Make sure to check out the answers and post your own questions on our Facebook or Instagram posts!
Students often want to know about the specific schedule and when they will find out what is happening each day of the semseter. There are a lot of details that go into 3 months of Outtatown, so we aim to give you information in bitesize portions. Here's a little info about when you'll be finding out more:
Upon arrival in September you'll be given the schedule outline with specific dates and where you'll be staying.
After the canoe trip your leaders will talk with you about the specifics for the next few weeks in greater detail.
You can also expect to have weekly community meetings (known as ANCHER meetings) that will happen at the beginning of each week (or upon arrival at a new location). Your leaders will fill you in on what you need to be aware of for that location and the times of any group sessions or activities.
Please remember to be flexible. Schedules can change slightly as the semester progresses.
Got questions as you prepare? Let us know what they are by commenting on our Facebook or Instagram posts…
---
Check out the other tips:
Packing Pt. 2: How often do we hike or camp?
Schedules Pt. 1: What's an instruction week?
Free Time: What can you do with it?
Instruction: What are some of the topics?