Hey Outtatowners! We're giving you helpful tidbits of information to help you prepare for Outtatown over seven different posts. All of the topics were suggested by students from previous years; what to bring, how to pack, and what you can expect from the Outtatown experience. Make sure to check out the answers and post your own questions on our Facebook or Instagram posts!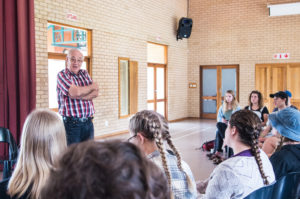 Often students are curious about what a week of instruction looks like on Outtatown. Although they differ week to week, here are some common threads throughout each instruction week:
An instruction week usually includes 3-4 days of instruction.
Instruction could take place in a classroom, lodge at camp, in a church, around a fire, or at a lake depending on your location and instructor.
An average instruction day would include a morning and an afternoon session, some quiet time, as well as some much needed free time. Each session is typically 2 hours. Check out page 58 in your handbook for more info.
Typically one other day during an instruction week is set aside for service at the camp where you are staying. This often provides a great change of pace, a chance to work together, discover your own giftings, and give back to our incredibly gracious hosts!
You will need a notebook to take notes in and pencils, pens, highlighters, or whatever else you would use when in a learning setting
Got questions as you prepare? Let us know what they are by commenting on our Facebook or Instagram posts…
---
Check out the other tips:
Packing Pt. 2: How often do we hike or camp?
Free Time: What can you do with it?
Instruction: What are some of the topics?
Schedules Pt. 2: When will we find out the detailed schedule?