Hey Outtatowners! We're giving you helpful tidbits of information to help you prepare for Outtatown over seven different posts. All of the topics were suggested by students from previous years; what to bring, how to pack, and what you can expect from the Outtatown experience. Make sure to check out the answers and post your own questions on our Facebook or Instagram posts!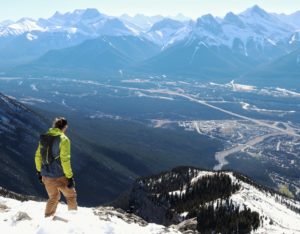 This post is a continuation on Packing: How much hiking/camping do we actually do? Students often want to know how much of these activities they will be doing in the year. You will hear more about second semester from your leaders in the fall, but when thinking about what to pack in first semester for "outdoor activity" here are some helpful hints:
The first 4 days of the program will be spent in a tent, at Shoal Lake. This is the only time you will spend camping during the first semester. Page 25 in your Student Handbook has some ideas for how to pack. The canoe trip leaders will teach you how to pack and remind you of what items can be left at the camp base and what you need to take in the canoe. The important thing is to bring 4-6 large heavy-duty garbage bags to use to waterproof your stuff, if you don't already have a dry bag that you're bringing.
Be prepared to go on various walks/hikes during the day while at Manitoba and Saskatchewan camps. You will also have a handful of opportunities to hike in the mountains while you are living in B.C. & Alberta. If you're lucky, you might even go caving. An option for outdoor activities will likely be scheduled about every week or two, but there are more opportunities during free time at camps (depending on student initiative).
Needs: Proper shoes such as hiking boots or good runners that have good grip and you're comfortable with getting a little dirty; clothing that layers well (ie. t-shirts, long-sleeve shirt, sweater, rain jacket, warm socks, base layer, etc.). A good rain jacket is useful for hikes and activities, but also useful for general daily activities. Places like AB and BC often experience a fair bit of rain during the fall.
Got questions as you prepare? Let us know what they are by commenting on our Facebook or Instagram posts…
---
Check out the other tips:
Schedules Pt. 1: What's an instruction week?
Free Time: What can you do with it?
Instruction: What are some of the topics?
Schedules Pt. 2: When will we find out the detailed schedule?