Hey Outtatowners! We're giving you helpful tidbits of information to help you prepare for Outtatown over seven different posts. All of the topics were suggested by students from previous years; what to bring, how to pack, and what you can expect from the Outtatown experience. Make sure to check out the answers and post your own questions on our Facebook or Instagram posts!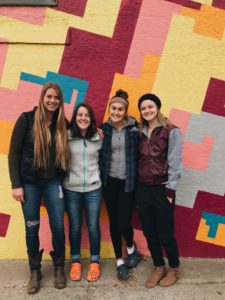 With the first post, we thought it would be good to start with some packing hints. So, here are a few details former students wish they had known before they started packing:
Pack mostly casual clothes for indoor/outdoor activities (ie. classes or hang out times with students at camps or in nearby towns). You will need some clothes that can get dirty for the 4 day canoe trip, and service days along the way, but that's it. (Don't forget a few outfits that are appropriate for church too)
Thermarest (sleeping mat) – You'll need it for the 4 day canoe trip, Winnipeg Urban Plunge, and travel days to and from Alberta. The rest of the time you will be at camps on mattresses. For your time in Guatemala, it isn't as necessary, but can be useful on a few occasions with hard surfaces. It's helpful if it can be packed relatively small.
Have hiking appropriate footwear/clothing. You'll need it a couple of times for sure, and maybe more depending on your interest as students/leaders.
You'll be moving locations fairly often throughout the semester. You will stay in a location from 3 days to 2 weeks, so that means you will be packing and unpacking your stuff approximately 15-25 times throughout the semester. Previous students often wish they would have packed less so that it's easier to pack up. Our recommendation: bring items that you can use in multiple situations, ie. you could wear jeans and a shirt for class, small group time, hanging out with friends during free time, and by adding a layer or two you can be ready for a hike on a cooler day.
Quote from a student: "PACK LESS! I know I read this before but I did not believe it. Future students should know how often they are packing & unpacking and to down size accordingly. Also, bring clothes that you feel good in. Not every day is a service day and sometimes you want to look nice even in the Outtatown bubble. Oh, and bring a good rain jacket because you are going to need it."
Pack clothes that will keep you warm and dry. The program begins in September when we are all used to summer and have done our best to forget about winter. But throughout the semester it will get cooler. You could experience some snow while in Manitoba and you'll definitely get some rain and snow as you head to Saskatchewan, Alberta, and BC. You will all want at least 1-2 sweaters, fleece items or hoodies. And then you can add additional layers (ie. long sleeve shirts, base layers, t-shirts, rain coats) for added warmth.
Read the equipment & clothing requirements pages in your Student Handbook for guidelines and other helpful information. See pages 21-27 in your handbook….
Got questions as you prepare? Let us know what they are by commenting on our Facebook or Instagram posts…
---
Check out the other tips:
Packing Pt. 2: How often do we hike or camp?
Schedules Pt. 1: What's an instruction week?
Free Time: What can you do with it?
Instruction: What are some of the topics?
Schedules Pt. 2: When will we find out the detailed schedule?