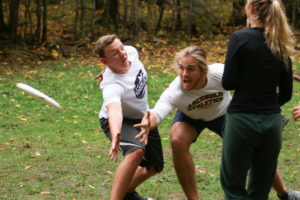 Hey Outtatowners! We're giving you helpful tidbits of information to help you prepare for Outtatown over seven different posts. All of the topics were suggested by students from previous years; what to bring, how to pack, and what you can expect from the Outtatown experience. Make sure to check out the answers and post your own questions on our Facebook or Instagram posts!
This post is all about FREE TIME: How much will you have? What can you do with it? Students are often curious about how much free time they will have while on program and what opportunities they might have during these times.
Amount of free time: It does depend on the schedule (how's that for a non-answer?). We certainly don't schedule every minute of every day – we value space, down time, and allowing room for creativity. So we try to leave a few evenings free each week, and some larger chunks of time during some weekends. Plus, during instructor days you can count on a few hours in the afternoon.
Free time is inevitable. Often these are the moments along the way that can make some great memories. Here are a few things students in the past have found valuable during these times:
Hang out with friends and grab a coffee
Find a way to serve your community, the camp, or the neighbourhood
Create fun community events like Olympics or sporting tournaments
Play board games
Get a group game of soccer or Frisbee going
Go for a walk, hike, explore
Bake
The list could go on forever. Be creative!
Along the way there are going to be moments that you just need some space, or want some time alone. Free time is perfect for this.
Assignments and reading. There will be assignments or reading that needs to get done along the way, and we encourage students to take some of their free time to complete these.
Got questions as you prepare? Let us know what they are by commenting on our Facebook or Instagram posts…
---
Check out the other tips:
Packing Pt. 2: How often do we hike or camp?
Schedules Pt. 1: What's an instruction week?
Instruction: What are some of the topics?
Schedules Pt. 2: When will we find out the detailed schedule?