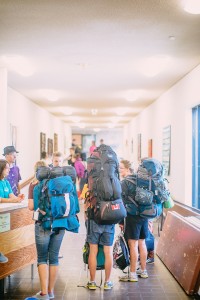 Sunday September 11th, 2016

Location:
Canadian Mennonite University
500 Shaftesbury Blvd, Winnipeg, MB
* Look for the Castle like building North of Grant Avenue
Schedule:
10:00am Site 3 (Burkina Faso) Arrival – Register & student loans…
10:30am Site 1 & 2 (Guatemala/South Africa) Arrival – Store luggage
11:00am Welcome & Worship
12:30pm Lunch (provided by Outtatown for all students & guests)
1:00pm Registration, process student loan, student photos, load luggage, process Burkina Faso VISA…
2:15pm Load luggage, prayer for groups
2:45pm Sites depart for Manitoba Pioneer Camp!
3:00pm Parents' reception to follow (1/2 hr. optional event)
* Due to flight schedules, if out-of-province students need to arrive in Winnipeg on the day before registration day, Outtatown will provide airport shuttles, accommodations and breakfast on campus for a minimal fee (See Handbook for more info).