Top 10 things you need to know as an Outtatown parent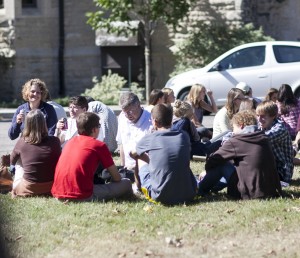 Your child has just signed up for the Outtatown Discipleship School program and now what? We have found that parent reactions can be quite varied. There is the separation anxiety that some parents feel, along with the worries about international travel. Some parents celebrate a new lease on life, while others feel something akin to "envy", wishing there had been a program like this when they were a student.
We have talked to/worked with many parents over the years and would like to offer some information and program perspectives which we trust will be helpful to you as parents.
1) Parents are on a journey too – the Outtatown program is for young adults (your children), but don't forget that this coming year can be an exciting and challenging growth year for you as well. It will be important that you plan and prepare for your own growth, not just theirs. As you grow in faith and character during this year, you will be able to recognize and affirm the growth in your child. Your spiritual growth is a gift to you, your child, your home and your community. Set some personal faith goals for the coming year.
2) Have others support you in prayer – it would be good if you could find a few people in your home community/Church who will journey with you in this coming year. It is often very helpful if they also have/have had a child go on a similar program allowing you to share experiences.
3) Separation anxiety – if this is the first/middle/last/only child leaving home for an extended period of time, there will be some separation anxiety. Often this is more on the part of the parent than the child, but some students find it quite difficult as well. During child dedication parents often realize that ultimately their child belongs to God. As your child steps out into new challenges in life, parents must take another step of letting go and placing your child into the Lord's hands. God loves your child even more than you do – let your child grow into a new relationship with the Lord.
4) Pray for them and give your blessing – allow change to occur in your child. During this year your child will experience new growth, and will certainly change in many ways. As a parent, you need to "allow" your child to leave, to grow and to give your blessing rather than hanging on to the past. Your continued prayers for your child and this program are most welcome.
5) Staying in touch – speak to your child about keeping in touch. How, and how often will they want to stay in touch with you and with others back home. With email, skype, cell phones, face book and other social media options, keeping in touch is relatively easy (some of this is good, other times it is good to allow some space). However, there are times when communication is not welcome and almost impossible since the students will be very busy. Don't worry if your son/daughter does not contact you for a few days/weeks – it is a good sign of being engaged in the program.
6) Spiritual issues – this is a strong evangelical program which seeks to encourage an active understanding of what it means to follow Jesus in daily life. We encourage worship, listening to God, study of the Bible, mentoring/discipleship and Christian accountability to grow in faith and obedience. As a parent, we encourage you to do some spiritual exercises as well, in order to understand what your child is going through.
7) Cross-cultural learning – as a guest in another country we will be encouraging students to live simply, and to be culturally appropriate. We would encourage you to begin to study and learn about the country and culture your child will experience. It will help you to ask them better questions and to understand what they are sharing with you about their experience.
8) What are they doing now? – our website we will provide examples of daily schedules and a general calendar of events. Recent stories and photos from their journey will begin to show up on a site blog connected to our Outtatown website. The photos and stories may not be fully reflective of the depth in this program since cameras are not always welcome in situation of service ministry or may be an insult in a poorer community. However, If you follow this you will be introduced to their friends, it will enrich your prayer life and you will have many things to talk about when your child calls home.
9) Health issues – every year we will have a number of basic health issues (colds, flues, etc) and also some that are more challenging. Many of these could/would happen at home as well. However, these can be more challenging when we travel since we will face new situations and health issues in another culture. All site leaders are trained to respond to basic health issues and we take great care to good food, clean water and to monitor the health of every student. Our international partners are very good at assisting us and we have had very good medical supports when needed.
10) Safety issues – we evaluate risk and plan for safety in all our programs. Students will always be informed about appropriate guidelines. In any new or challenging context (here in Canada or in another country) we listen to Christians who know and live there in order to know what is safe. It is our relationship with these partners that allows us to enter into their world and we do so under the umbrella of the good work they do throughout the year.
We trust that your child will have a wonderful life-changing experience which you will be able to support and encourage. As they return home at the end of the first semester, and at the end of the program, it will be important for you to assist them in these transitions and to support them as they seek to follow Jesus in new ways. Later in the year we will provide some debrief information and suggestions on what your child will experience returning home.